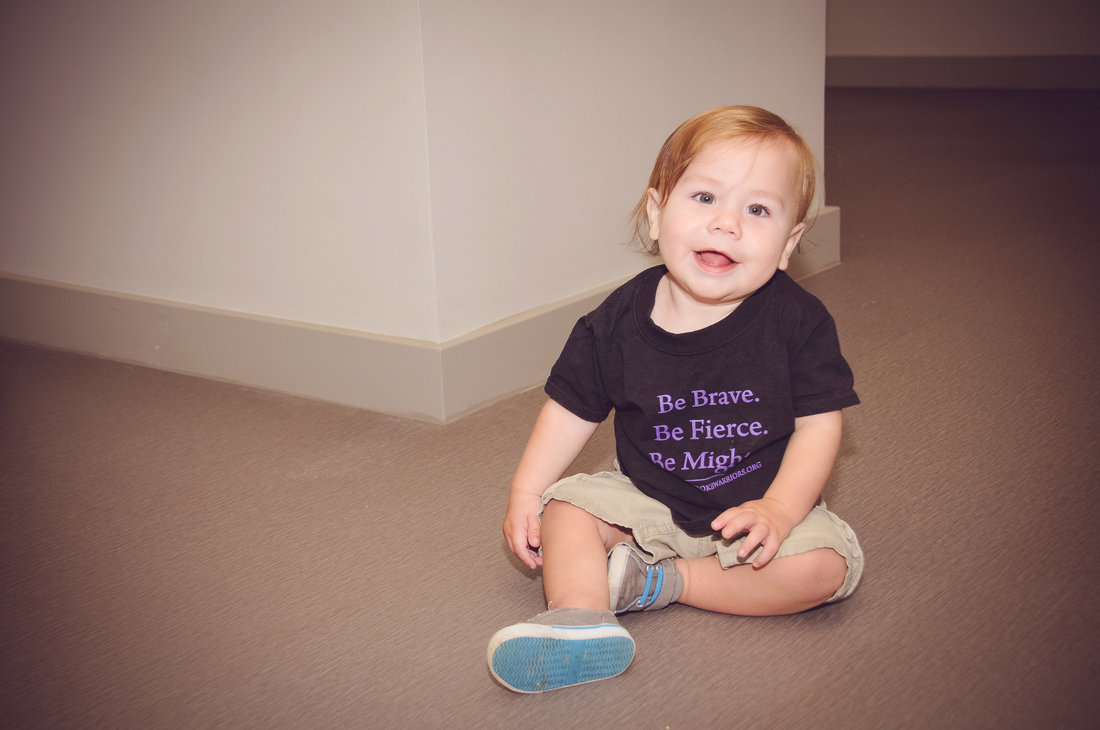 "Our family is grateful to
Bryan Cave LLP
, and our charitable group in my office of which I am a member, "Cavers Who Care", to have the opportunity to help Pediatric Stroke Warriors raise awareness in May and also help other families know that there is HOPE. ​To those new families just now dealing with this new reality, we are here for you."
---
Our Journey
- May 18th, 2016 is a day that is burned into my memory. At around 2:00 a.m. I received a phone call from my wife in hospital. Actually, by the time I finally realized the phone had been ringing I had missed 8 phone calls on my cell phone and 2 on our house phone. By then it was past 2:15 a.m. and our sweet baby boy had been rushed to the NICU after suffering a series of seizures. I was at the hospital within 20 minutes. The doctors and nurses didn't know what the problem was, but they had sedated Bobby and it would still be a while before we could be with him. The next 2 days were a blur, spent in the NICU with him. He was regularly whisked away for various tests or specialists would come into his pod to check on him.
​
It wasn't until the morning of May 20th, our 10th anniversary, that we found out the extent of what was going on. Two specialists had come into his pod to work with him, an occupational therapist and a physical therapist. It was then that I knew he had a stroke as I overheard them talking about how to treat him. I looked at Alexis, my wife, and said "It was a stroke". While the therapists were still in the room I demanded to speak with the doctor. We needed to know for certain from his mouth what this was. We needed to know what was going to happen. We needed to know that he was going to live, going to walk, going to be ok. We finally spoke to the doctor, a high school classmate of mine, and we heard those words, "Bobby had a stroke". It was a
lacunar stroke
that affected about 40% of the left side of his brain and his brainstem. They tried to be positive. They told us he would get great care. They didn't have answers. There was no reason why. There was no way of knowing what this will mean.
​Instead of getting answers and knowing that everything was going to be fine we, like so many other families, were left wondering what this was going to mean for his life, for our life, for our family. It was a terrifying time and the internet was not terribly helpful at first. We read words like hemiparesis, hemiplegia, Cerebral Palsy, etc… We spent the next six months seeing myriad doctors, home health nurses, therapists, specialists, social workers, and various folks from Arizona government agencies. No one was able to tell us with any certainty what was going to happen and that was a sad and lonely feeling.
​We continued to scour the internet joining stroke groups on Facebook, reading seemingly every website, every blog post, and every comment about how this happened and what the outcomes are. We are so grateful and thankful to have found the Pediatric Stroke Warriors. Alexis reached out and let them know about Bobby and soon a
Warrior Bag
had arrived filled with information, toys, and therapy items. Beyond that we found an amazing community that has helped us and touched us and given us HOPE. Through all of our searching, through all of our reading, through all of our despair we desperately wanted HOPE for Bobby and this group has helped us profoundly with that. Our one constant certainty was that no matter what Bobby is our perfect little guy and we were going to love him and provide every single benefit and bit of help that we could to help him overcome whatever obstacles were in his path.
​
I am so happy to report that after 6 months on Phenobarbital we were able to successfully wean him off that medication with no further seizure activity. Also, at 6 months old Bobby had a follow-up EEG that showed no signs of seizure activity. Continuing with that good news he had a follow-up MRI at 6 months and that revealed that the majority of the damage done by the stroke had been healed and that there was only a very small spot of damaged brain tissue that was showing. Bobby will be turning 1 year old on May 17 and to the shock and surprise of us and his team of doctors he has never missed a milestone. He uses both sides of his body equally. He is a happy and joyful little boy that loves to play with his older brother and sisters. To this point there are no noticeable signs of impairment or damage from his stroke. We saw his neurologist recently for his 1 year check up and our visit was nothing but smiles and happiness that he presents as a healthy 1 year old should.
​Bobby's recovery is attributable to so many things: six sleepy months on Phenobarbital allowing his brain to rest and recover; three older siblings that he so desperately wants to play with and be like; a team of dedicated medical professionals providing the best care possible for him; an amazing web of friends, coworkers and extended family all lending a helping hand, caring thought, or helping organize a fundraiser; last but not least, a group of strangers around the country sharing their stories, giving support, and helping us find HOPE.
​

Making May Matter
- In a show of support for Bobby, and all the other Pediatric Stroke Survivors, the law firm that I work for,
Bryan Cave LLP
, and our charitable group in my office of which I am a member, "Cavers Who Care", put on a Cinco de Mayo Salsa contest with all proceeds from that event going to support Pediatric Stroke Warriors. People all around my firm are wearing warrior bands and purple ribbon lapel pins. The lawyers that I work with have been unbelievably supportive of my family and I cannot express my gratitude to them and to the Firm enough for the way they have rallied around us. With May being Pediatric Stroke Awareness Month, my firm has endeavored to be purple and show its support for our cause! I am so proud to be a part of Bryan Cave, an AmLaw 100 law firm, that recognizes its people and supports them, supported me, when I most needed it.
I am eternally grateful to Kaysee Hyatt for starting this organization. I am overcome with emotion as write this final paragraph because I know how scary this is. I also know how great it feels to find a community of people that can share their stories and grieve together and celebrate together and experience these emotions together. My family is grateful to have the opportunity to help Pediatric Stroke Warriors raise awareness of this devastating diagnosis and also help other families know that there is HOPE. The people closest to you care about you and are hopeful for you. Perfect strangers thousands of miles away from you care about you and are hopeful for you. Alexis and I care about you and your Stroke Warrior and are hopeful for you. To those new families just now dealing with this new reality, we are here for you.

Be Brave. Be Fierce. Be Mighty.
​
Justin Monnet-