Upcoming Events!​
3rd Annual Experience Fitness Project- Sunday September 24th- Issaquah Washington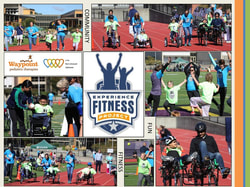 Pediatric Stroke Warriors is proud to team up with Waypoint Pediatric Therapies, Life Enrichment Options and a number of other organizations dedicated to supporting ALL abilities!

*Sunday, September 24
at 11 AM - 2 PM
*Issaquah High school- Track and Field- 700 2nd AVE SE, Issaquah WA 98027
Save the date
for a fun day for children and young adults with physical disabilities to participate in competitive and noncompetitive fitness events including adapted equipment, races, and group classes. The Experience Fitness Zone will have representatives from many different local recreational & fitness programs & organizations promoting opportunities for children with and without physical disabilities.

Who: Children and young adults ages 5-25 years with motor delays, and their families & friends. All ability levels are welcome including the use of adapted bikes and manual or power wheelchairs!

FOR MORE INFORMATION CHECK THE EVENTS TAB AT: http://www.waypointpediatric.com/
Phone: (425) 830-0028
Email: experience.fitness.project@gmail.com
---
Past Events...
---
Team: Pediatric Stroke Warriors at the 2016 Heart & Stroke Walk

Date: Saturday, October 15, 2016

Location: Seattle Center (South Fountain Lawn and Fisher Pavilion ) 305 Harrison Street Seattle, WA 98109

Time: Festival Opens 7:30am
Opening Ceremonies 8:40am
5K Walk/Run 9:00am

​Registration: FREE online http://pugetsoundheartwalk.kintera.org/pediatricstrokewarriors

​Pediatric Stroke Warriors is dedicated to the mission of increasing visibility to awareness and hope for those impacted by Pediatric Stroke. We support the American Stroke Association in building healthier lives free from cardiovascular disease and stroke by forming a team again this year at the Heart & Stroke Walk!

We are walking in honor and in awareness for all children impacted by stroke and certainly hope you will join us in an opportunity to walk together in support! Last year we had a team of 30, let's grow this!

Registration is free, any funds donated in support of this walk directly contribute to the overall mission of the American Stroke Association and their programs.

Together, we can take steps in awareness, and make healthier lives possible for everyone. Why? Our children are why..

#PediatricStrokeWarriors
​
---
---
UCP Walk, Roll & Run- Saturday September 17th, Portland Oregon
It is always a wonderful day spent with family, friends and the community as we raise awareness and the funds needed for the Family Support Department here at UCP.
Please join The B.A. Warriors again this year to raise funding for United Cerebral Palsy in Honor of our Beautiful Pediatric Stroke Warriors!

This vital funding needed for UCP's Family Support department helps over 800 families in Oregon and SW Washington. Your participation and or donation helps keep this irreplaceable option in place for families and kids impacted by developmental disabilities.

Over the last 4 years out team has raised more than $11,760! Thank you for helping us make a difference!
– The Nutting, Winz and Hyatt Families

To join please click on the link below- http://walkrollnrun.kintera.org/faf/search/searchTeamPart.asp?ievent=1156197&lis=1&kntae1156197=5B373338FB8B4B...A98D87A0E619C2DF21&team=6724503

EVENT INFO-
RUN STARTS
9/17/2016 9:00 am - 10:30 am
WALK/ROLL EVENT STARTS
9/17/2016 10:30 am - 12:30 pm

FEES:
-> These INCREASE JULY15th <-
Adult Registration (ages 18+): $20.00
Choose this option to participate in the Walk/Roll or Run. Purchase of a souvenir T-shirt for $10 is optional.

Teen Registration (ages 13-17): $10.00
This option is for teens who want to participate the Walk/Roll or Run. Purchase of a souvenir T-shirt for $10 is optional.

FREE - Child Registration (ages 0-12): No Fees
Choose this option to participate in the Walk/Roll or Run. The purchase of a souvenir t-shirt for $10 is optional.


Full Details can be found at the event site: http://www.walkrollnrun.org/
---
Pints for Pediatric Stroke- Saturday July 30th, Hayden Idaho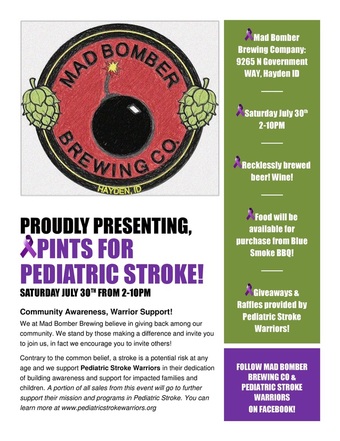 ---
Day for Kids- Saturday June 18th- ​Coeur d'Alene, Idaho
Hosted by the Boys & Girls Club of Kootenai County


By dedicating a whole day to celebrating our community's youth, we let them know just how important they are! Come join us this year at McEuen Park for our 3rd Annual Day for Kids Family Fun Day! We'll have bounce houses, food, music and lots of prizes to win! It's Car'd Lane Weekend so there's something for the whole family!

Pediatric Stroke Warriors will be hosting a family friendly booth​ full of goodie bags, a tattoo station and more! We hope you can come out and join us!

For More Information: http://www.northidahobgc.org/dfk
---
Pinot's Palette: Painting it forward for Pediatric Stroke Warriors- Saturday May 21st
Saturday May 21, 2016 at
Pinot's Palettes
728 N 4th Street, Coeur d'Alene, ID 83814
3:30-5:30PM
Wisteria trees bloom a beautiful, lush lavender every Spring. Enjoy the softness and serenity of this fresh Spring scene while you create your beautiful, floral masterpiece.
Class Description:
May is Pediatric Stroke awareness month, and today we will be Painting it Forward for the Pediatric Stroke Warriors. This organization serves over 30 families in Idaho and Spokane alone. If you would like more information on what they do, check out their website at www.pediatricstrokewarriors.org. This event is open to the public -- the more the merrier!
Must be 21 or older. Please present ID at door.

Click her to Buy Tickets and register for this fun event! ​
---
---
Wishes for Warriors- Saturday May 14th 2016
We cordially invite you, friends and Associates to Pediatric Stroke Warriors 1st annual "Wishes for Warriors" event!

Join us on Saturday May 14th

Renton Technical College, 3000 NE 4th St, Renton, WA 98056

5:00pm-9:00pm

Beer and wine reception, live music, wine toss, photos

Dinner Buffett

Delectable Desserts

Silent auction throughout the evening with a Live auction at 7pm

Tickets are $25 for adults and includes Dinner and all beverages

Pediatric Stroke Warriors proudly supports growth in pediatric stroke awareness, our Focus on family Programs and our Expanding Resources Fund at Seattle Children's Hospital. This fund was established by working with Seattle Children's Foundation to implement the first fund of its kind, to specifically support the uncompensated care for children and their families impacted by stroke. We work together to ensure that no child seeking treatment at the Seattle Children's Stroke Program should ever have to forgo any care or treatment based on financial reasons.

Your awareness, support and attendance makes all of what we focus our mission on with Pediatric Stroke Warriors, possible! We hope you can join us!

This event is sold out! Much appreciation for all the support in making our 1st annual event soon to be a success!


---
---
#GIVINGTUESDAY- December 1, 2015
At this time of the year and with #GivingTuesday approaching, many are looking for a nonprofit to donate to (and many work for companies that will match). Please consider Pediatric Stroke Warriors for your donation.

All donations are tax deductible and go far in furthering our mission and the Stroke Program at Seattle Children's.

Seattle Children's is the only hospital in the Pacific Northwest with a well-developed program to treat pediatric stroke and it's why we are dedicated in supporting them. They continue to treat children and support families from Washington, Oregon, Alaska, Idaho, Montana, as well as Hawaii. With experts providing consultation to doctors around the country.

Through your awareness and support we can continue to create the needed changes in the future of pediatric stroke. To make a donation or find other ways to support- please check out our Support PSW Page


---
---
World Stroke Day- "Cup for a Cause" Thursday, October 29 2015
In honor of World Stroke Day 2015, Pioneer Coffee in North Bend is helping us raise the bar on awareness while honoring all children impacted by pediatric stroke. Here's to our littlest warriors!

.50 cents from each purchased coffee will be donated to Pediatric Stroke Warriors to further our mission and to support the stroke program within Seattle children's Hospital.

Be sure to stop by on October 29th!
---
---
World Stroke Day- Virtual Campaign through October @ united4pediatricstroke.org
In honor of World Stroke Day 2015, pediatric stroke advocacy organizations worldwide have joined together to create a campaign dedicated to supporting pediatric stroke awareness across the globe!
We encourage everyone to participate in building the needed awareness for pediatric stroke. To make this campaign a success, we need your help! There are a number of ways you can participate and it is our greatest hope that you join us in this campaign for World Stroke Day!
BE VISIBLE!
If you or your child has been impacted by pediatric stroke, we want to hear from you!
This is your chance to share your story and let the world know that pediatric stroke happens. Please go to the
World Map registration page
and add the name of your child to the world map. You are encouraged to share a brief story and include a photo if desired. Let's honor all children who have had strokes around the world! This includes adults who suffered a stroke as a child.
BE HEARD! Join us in raising awareness on social media by sharing the World Stroke Day graphic!


Simply go to the
Be Heard page
and share the graphic on any or all of your social media sites. The graphic is available in multiple languages so select the one that works for you!
UNITE FOR CHANGE!


Research for pediatric stroke is historically under-supported and under-funded. This severely limits the ability to investigate important aspects of pediatric stroke, such as new treatments, factors influencing the quality of life of survivors, and causes and prevention of pediatric stroke. The first critical step in achieving more research is to educate and raise awareness that strokes can happen in babies, children and before birth. The World Stroke Day campaign for Pediatric Stroke will play an important role in achieving that first step. You can be part of this initiative to unite for change!
Please go to the
Unite for Change page
to learn more about pediatric stroke, find additional resources that can be shared and help educate and raise awareness across the globe!
Thank you to the following organizations and advocacy leaders for their collaboration and support of UNITED4PEDIATRICSTROKE.ORG.
Asociación de Hemiparesia Infantil "Hemiweb"
Bellaflies
Brendon's Smile
Fight the Stroke
The International Alliance for Pediatric Stroke
The Kiss Initiative
Love for Larson
Pediatric Stroke Warriors
---
---
Saturday, October 17, 2015
We would love for you to join us by registering to be a part of our team, Pediatric Stroke Warriors, in the
2015 Puget Sound Heart and Stroke Walk
sponsored by the
American Heart & Stroke Association
. Together we can increase awareness and support! Why? … Our Warriors are why.
Registration for this walk, further event details and a donation option to the American Heart and Stroke Association can all be found on our
team page
!
As we get closer in date, we will continue to share further event details regarding our team specifically. Below you will find specific details with directions and the walk route. We hope you can join us!

---
---