Pediatric Stroke Warriors strengthens communities by providing support to families and promoting advocacy, public awareness, education, and dissemination of current resources related to stroke in children.
​
Building Relationships and Vital Education for Pediatric Stroke, is at the core of what we do. While the work we are committed to throughout the Pacific Northwest Region has begun and taken roots, we know that to move closer to our Vision of a society in which there are ample resources, quality treatment options and support for every child - we need to work to extend education beyond one region.

Through generous support, donations and volunteers we continue to disseminate the following educational materials to Medical Professionals, Children's Hospitals, Early Intervention Services and businesses who have all been open to learning further about Pediatric Stroke and how they can get involved in increasing awareness and support in their communities. If you would like to become involved, and make a request for any of the following resources, please reach out today!

​We strive to provide the latest up-to-date information. These resources are simply educational; and while medically sound; we encourage families to refer to their healthcare professional regarding matters specific to their own child's health.
---
Stroke awareness at any age- Educational Video
Pediatric Stroke Warriors and SparkVids Media presents the following educational video in heightening the awareness of the signs and symptoms of stroke in a child at any age.

---
Educational Guides for Healthcare Providers and Impacted Families
---
Overview of Pediatric Stroke: Prenatal through Teenager- An educational Guide for Healthcare Providers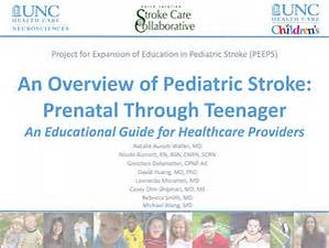 ​

---
An Overview of Pediatric Stroke:
Prenatal through Teenager An Educational Guide for Healthcare Providers
was designed for healthcare providers who are:
•Caring for children and need more information on recognition of stroke signs and symptoms
•Caring for children post-stroke after hospitalization or rehabilitation
•Looking for general knowledge about stroke in the pediatric patient population
The intent of the guide is to give healthcare providers basic information on:
•Types of stroke in the pediatric population
•Recognition of stroke signs and symptoms in the pediatric population
•Diagnosis of perinatal and childhood stroke
•Acute and long term treatment options
---
Pediatric Strokes: The Who, What, When and Beyond- A Patient Family Guide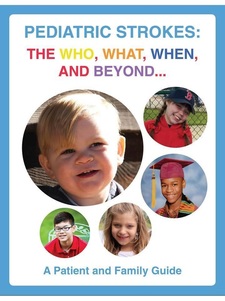 ---
The second resource guide is a "road map" for patients, parents, caregivers, and family members who have been impacted by pediatric stroke.
The Pediatric Stroke Patient and Family Guide
is intended to give families guidance on how to navigate this new journey after learning their child has suffered a stroke. Included in this booklet are terms you can use, types of specialists you may need to consult, and types of therapy that may be useful based on the age of the child. Parents have provided words of hope as well.
---
CAST online training module for Medical Professionals
The
Carolina Acute Stroke Training (CAST)
now has a
Pediatric Stroke Module
(Module 9).
The Carolina Acute Stroke Training (CAST) program was developed by the UNC Stroke Team under the leadership of Susan Wilson RN, MSN, C-ANP. Learners for CAST include registered nurses, first responders, pharmacists, allied health professionals, and a wide variety of persons with different backgrounds, education and experience.
​
Each module ends with a "Completion Certificate" which indicates learning hours for a wide range of learners. The learning hours include time for reviewing the module, discussing it with colleagues, and reviewing additional resources. There is no cost to register to complete the modules. However, for anyone needing accredited continuing education, there is a nominal $29 registration fee and includes completing all the modules.
---
Get the facts: *NEW* Pediatric Stroke Infagraphics:
Through a partnership of the International Alliance of Pediatric Stroke and the American Heart & Stroke Association these two new d

ownloadable fact sheets highlights the risk factors, signs and symptoms of perinatal and childhood stroke. These fact sheet are also available in Spanish and can be downloaded below.
​Childhood Stroke Fact Sheet Childhood Stroke Fact Sheet, Spanish Infant Stroke Fact Sheet Infant Stroke Fact Sheet, Spanish

Please consider sharing them with friends, family, co-workers, teachers, school nurses, coaches, fireman, police, paramedics, healthcare providers, day care providers, and anyone else that should know what a stroke looks like in infants, children and teens.
---
Pediatric Stroke Warriors Brochure

Request and hand out this brochure to let others know more about Pediatric Stroke Warriors,

our mission in education, awareness and family support.

This condensed, trifold pamphlet shares gives a quick overview of stroke for both perinatal and childhood, listing what to look for and what to do if your child is experiencing any of the signs and symptoms.
---
Pediatric Stroke Warriors Family Support Card
Request and distribute to therapy clinics, doctor offices and early intervention teams to bring

visibility of our resources and support to families that have experienced stroke. This card as well includes information on how a family can make a request for a Warrior Bag or Brave Box.
---
FAST for Pediatric Stroke Cards
Thousands of these FAST for Pediatric Stroke cards have been distributed among our events, medical fairs, and community booths. The same signs that can be present in adults, can be indicators of a stroke in a child. Often signs are overlooked or waited to take action on because many are unaware a stroke can happen to a child.

​

Help grow the awareness of the signs of stroke in all ages, by requesting and distributing cards in your community.

​
---