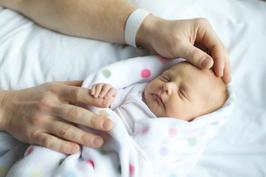 There is no memory as vivid to any parent as the day they get to meet their child for the first time. The day all the anticipation comes full circle and they hear their child's first cry into the world pierce the silence.

​The complications towards the end of my pregnancy made her cry even more monumental for me, even more reassuring that our beautiful girl was here. When I finally got to hold her and see those beautiful red curls, and soak in those 10 tiny toes and fingers- my little sunshine mixed with hurricane was here.

Those first weeks home were as beautiful as they were difficult. When most newborns sleep, our daughter had difficulty. Sleeping no more than a 2 hour stretch at a time. When most newborns build an appetite and yearn to eat, our daughter would eat for minutes at a time and then cry with frustration and uncomfortableness. We were at a loss with questions, but were assured with each of her appointments that she was healthy and this phase was all a part of being an infant.

As weeks turned into months and sleep and eating continued to prove difficult for her, we had many appointments. Many discussions on colic, acid reflux, allergies. Seeking support from lactation specialists, therapists trained in reflux, countless morning calls to her pediatrician to be seen that day after a horribly hard night. All attempts proved futile with the constant reassurance again, that she was healthy.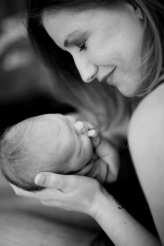 As my daughter began taking notice in toys and figuring out her world, I started to notice that she never unclenched her left fist. I had to try with all my might to get her little thumb out of her fist to introduce toys too her left hand or to clip her nails. It was strange to me, but I had no knowledge to be overly concerned. At first thought, we believed she was born to be a righty. When she continued to disregard her left hand in play I became scared that her arm or a nerve may have gotten hurt during delivery.

It was at her 6 month checkup with her pediatrician that he met my concern. Something was preventing her from using both hands. My concern of injury was met, but as well he added to my concern and shared the rare possibility of a stroke. Words that no matter how hard anyone tried to explain away the rarity of it, I couldn't get it out of my mind. A child having a stroke, how is that even possible?
We had a month of waiting to be seen by a specialist who performed a sedated MRI to rule out anything neurological that could account for my daughter's behavior. We had what felt like an eternity to get those results. In that time I had poured over google to scour for every possibility, every relatable story. I drove myself to the brink of anxiety. Questioning myself, my pregnancy and any new behavior my daughter showed. I was lost, overwhelmed and scared. Friends and family tried their best to reassure me, to help calm my feelings in saying everything would be alright and that there must be an easy explanation.

When the call finally came and the doctor shared the results from the MRI, there was nothing easy about the explanation. Her words came across in slow motion indicating that the results reflected an injury to her brain from a stroke. She wanted us to make an appointment to discuss face to face and go over her scans. The call left me in shock. The relief I had hoped to feel after months of knowing something was wrong, wasn't there. Only new questions and huge emotions to struggle through.

The following week we sat together huddled over a computer screen with the Neurologist, scared and unsure of what all this meant for our little girl. The doctor began leading into the discussion that a stroke can happen at any age. That the risk during the newborn period happens to be the highest risk throughout our lifetime. 1-3500 newborns and my little girl was that one. The room began to fill with words and terms, Hemiplegia Cerebral Palsy, Ischemic In-utero Stroke, feeding therapy, disability, adaptive equipment. As much as we braced ourselves and as hard as we tried to retain it all and build a plan, the moment was very much surreal.

She began to show us each scan from her MRI. Different angles and "slices" of images taken of my daughter's brain. More terms, more uncertainty until she paused on one image. It was an image from my daughter's chin up to the top of her head. It wasn't the dark void in the image on my daughter's right side of her brain that I focused on anymore. But now I could see the outline of her little face, the way her chubby cheeks left an outline even in an xray, and there she was.

In that moment among the fear and uncertainty, I was grounded. Brought back to my senses that no matter what we could come to learn about this diagnosis, it would not define my daughter. She was right there. My little sunshine mixed with hurricane.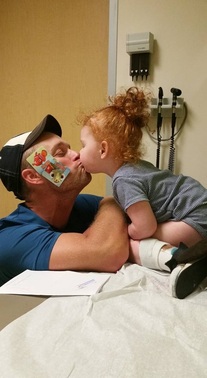 It's been four years, not only have we learned so much about stroke but we learned that we have to take it one day at a time. To say that it has been easy would be a lie. To be completely transparent there have still been moments of feeling lost in emotion and worry, this journey is not easy. I talk to families often that ask when they will come to terms, when will it get easier. That's an answer that's different for all of us. For me, I remember that moment in that room where I found my grace again and I hang on to that as tight as I can.
I try to remind parents that regardless of what that MRI entailed or that diagnosis, they are words and pictures. They serve an undeniable purpose, but it has been my daughter who has defined her journey. Not knowing what walking would be like for her, she showed us all that she was going to walk without the aid of her walker. While Cerebral Palsy very much still affects her left side, she's learning how to use her "helper hand" and often finds her own way to do two handed activities. Our new normal simply includes the weekly therapy appointments and teams of specialists to help her reach her greatest potential and that is ok. In fact, it's better than ok, we are grateful to all the care we have found. It's taken a village.
The reality that stroke in children is still viewed as rare is saddening. Countless families have firsthand experience with pediatric stroke and with stroke not being preventable in children, more families will receive that diagnosis with their child. More will come to learn how to navigate the emotions, the appointments and learn how to find their strength. My hope is they never have to do it alone and that they never lose sight that their child is going to move mountains, in their own way and in their own time.
To find out more about Pediatric stroke or to connect with other families in support please go to the family support section at
pediatricstrokewarriors.org
,