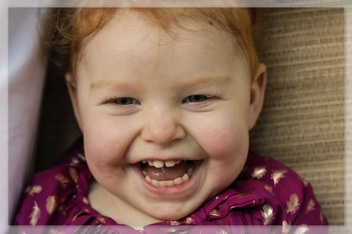 Today marks a day of importance to many families. Today, is World Cerebral Palsy Day. For families and organizations like ours, this is a day to celebrate resilience.

This is our daughter, Addison. She had her stroke at birth, and as a result has Hemiplegia Cerebral Palsy. Years ago, we would have given no thought to the chances of either happening. But through this journey we have learned, pediatric stroke and cerebral palsy are two medical matters that can affect our children. This month especially, marks specific days of recognition for both, and we hope you partake in the support.

There is much awareness and research needed for pediatric stroke and cerebral palsy. But, there is also much hope and inspiration that can just as easily be cultivated in sharing. We hope you take some time today to do just that. If you haven't already, check out worldcpday.org for further information regarding Cerebral Palsy and stories of hope. A little awareness goes the distance.

We have always shared that above any diagnosis, any medical label, our children are indeed perfectly and wonderfully made. So, especially today, when you think of pediatric stroke or cerebral palsy, please remember this: While there are moments of struggle, there are many more moments of celebration and resilience!

Kaysee Hyatt-President of Pediatric Stroke Warriors