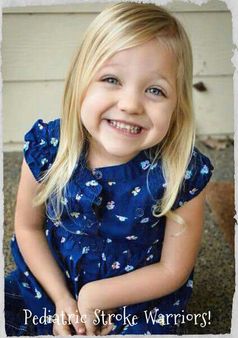 Adelynn "Ady" is a spunky, loving, caring independent little girl. She is a warrior! When Ady was born, her parents were unaware that a child, let alone a newborn, could ever have a stroke. Her mother, Danielle, recalls their journey in the beginning and shares in hopes of creating awareness and education that stroke in children happens. "People need to know it is at least a possibility for children to have strokes. There needs to be support and a plan of treatment available for families."
"I had an uneventful pregnancy, great in fact, minus the terrible months of morning sickness! On the day I went into labor, doctors were concerned because Ady's heart rate was elevated. After delivery they whisked her out of the room. I held Ady for the first time in the Adventist nursery 12hrs after she was born, it was there that she had her first seizure and she turned purple in my arms. It was any mother's purest nightmare. She had 7 more heart wrenching seizures in the nursery before we were transferred to Emanuel via ambulance."
"We were at Emanuel for a week before we were told that she had suffered an acute stroke to the entire right side and middle areas of her brain. They cautioned us not to be alarmed if doctors used the term "cerebral palsy", it just meant a brain trauma. They told us that it was too early to tell what her future may be like, that there was a chance she may never crawl, walk, or talk. My heart just sank. It was just so much to take in. I continually tried to focus and remind myself what the doctor had said to me "don't blame yourself", because I couldn't have done anything to prevent this. However, as a mother, it played over and over in my head of every possible thing I could have done better or different."
"When we all came home, I spent every extra moment researching what we needed to do, and the steps we could take in helping our daughter. Seeking doctors and different therapy for our daughter. I felt like most doctors had no helpful avenue for me, just a lot of wait and see, dead ends. The doctors we talked with knew it was "possible" for a child to have a stroke, but there was not a typical treatment plan. In 2010, there was such limited information about children and stroke, not even the larger organizations for stroke had any helpful information."
"Needless to say overtime, we got there, we forged our way and advocated for Ady. We built a team of doctors and therapists that all support Ady and continue to do so. We have our ups and downs, daily appointments and melt downs- for both of us, but she is our walking, talking, spunky little girl that is the heart and glue of our family. Our journey may have been difficult, and it impacted all our lives, but it has made us nothing but closer as a family. It reminds us daily to take nothing for granted."
Many children, just like Ady, receive a diagnosis of cerebral palsy from having had a pediatric stroke. Danielle, along with other stroke impacted families and friends formed the "BA Warriors Team" for the United Cerebral Palsy- Walk Roll Run event held each September in Portland, Oregon. Honoring childhood stroke survivors and supporting the UCP's "Family Support Department" that helps over 800 families in Oregon and SW Washington. If you are in the Portland area and would like to join up with the BA Warrior's, please go to their
team page
to register!